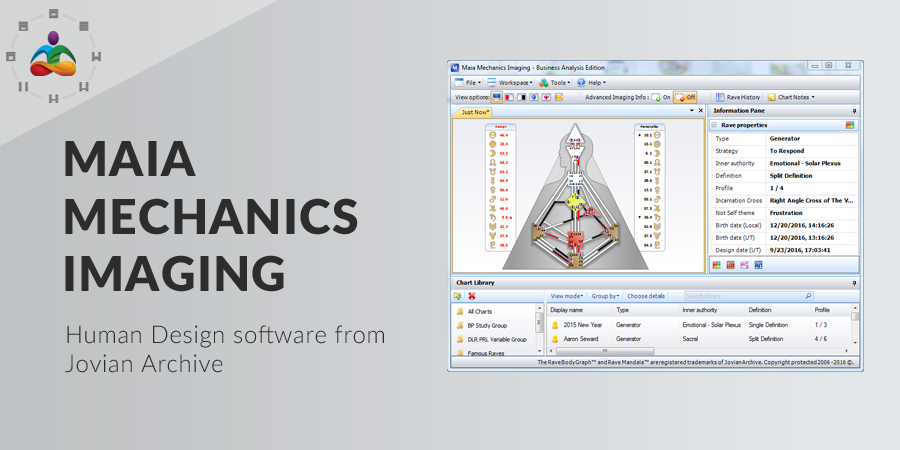 Maia Mechanics Imaging is the flagship Human Design software application for Rave & Penta calculation and analysis from Jovian Archive.
MMI users can easily create and analyze Individual & Connection Rave Charts, Transit Charts for any date, Global Cycle Charts and for the first time Family Penta Charts.
Packed with analytical tools & utilities like the complete Rave I'Ching reference, a built in Rave Ephemeris browser, and a redesigned intuitive user interface, MMI makes it easier than ever to integrate the vast amounts of information contained within any human design chart.
With the new licensing model MMI is now available in several editions, allowing users to purchase and use only the needed functionality.
As always MMI is also available in a free edition which can be downloaded from the Downloads Section.
Features
Please note that the availability of the feature is dependent upon the specific edition of MMI used.
For more information on MMI edition and feature comparison please visit the Editions Section.
Rave Chart Calculation
MMI makes it easier than ever to create and analyze Rave & Transit Charts.
With new and improved data entry forms and the new Find Place feature for birth locations, you can now create your charts in just a few seconds.
MMI utilizes the JPL planetary database and the ACS International Atlas to generate hyper accurate Charts down to the Base level.
Cycle Calculation
MMI makes it easier than ever to create and analyze Rave & Transit Charts.With MMI you can now easily calculate and view the entire range of Global Cycles meaningful to Human Design analysis.
Saturn and Kiron returns, Uranus opposition and Solar/Lunar returns for every month can be be created in the blink of an eye.
Connection & Penta Calculation
MMI offers complete support for combining charts to analyze their interactions.
Creating a Connection Chart is now a simple matter of using drag & drop to place one Rave Chart over the other.
For the first time ever, MMI also offers new Penta calculation features, allowing users with interest in Family Practice to look deeply into the underlying dynamics of a penta group .
Complete Rave I'Ching Reference
MMI contains the complete Rave I'Ching keynote reference and can display the relevant keynote for any given activation in the bodygraph/ pentagraph whenever you hover over the activation with the mouse cursor.
A complete Rave I'Ching Overview for any chart is always available for reference or printing and incorporates planetary fixing effects.
Comprehensive Planetary Data Reports
The new and improved Planetary Data information pod brings together all of the various details of each planet's position and activation into an easy to understand property grid.
For each planet MMI displays Gate, Line, Tone, Color, Base, Longitude and fixing properties.
Enhanced View Modes
MMI supports multiple View Modes for each chart.
From split Personality and Design Views to Rave Mandala and Incarnation Cross Views, users can now view the same data in multiple ways allowing for a deeper understanding of the underlying information.
New Imaging & Print Engines
For MMI a new Rendering Engine has been developed that not only generates higher quality Rave Chart images but does so much faster.
Defined aspects in a Chart can now be dynamically highlighted by hovering over them with the mouse cursor.
Printing Charts with MMI is easier then ever, with all printing options grouped into a single simple dialog that supports selecting multiple concurrent printing options and provides the user with a preview of the different options.
The Chart Library
Unlike previous MMI editions, Charts are now stored in an internal database and not as stand alone files.
Users can still export and import individual charts, create folders and manage their charts and also enjoy a centralized managed repository for their charts.
Built in Email support also allows users to email chart files to colleagues and friends without leaving the MMI interface.
Chart Comments
Users can now add text comments to each Chart in their library.
A full Text Editor with formatting tools is integrated into MMI for that purpose.
New Information Pods
The large volumes of information displayed by MMI for each Chart has been arranged into a new set of collapsible Information pods putting the most relevant data at your finger tips.
A new context sensitive Popup window allows the user to highlight defined areas in a chart with the cursor and instantly preview a summary of the activations and their properties.
Rave Ephemeris Browser
The new Rave Ephemeris Browser can now display the movements of the planets in 2 hour intervals and has a new interface that highlights a change in line for each planet so cusps can be glimpsed with even a quick look.
Transit Watch
The Transit Watch is an MMI tool that allows users to create a series of Transit charts (either composed with a person or not) by specifying a date range and sampling frequency.
Rave Time
The Rave Time is an desktop widget putting the chart of the moment on your desktop.
Rave Time can be used outside MMI and set to start automatically with Windows.
Multilingual support
MMI has been built to accommodate several languages side by side, giving the user the ability to switch the interface language while running the program.
Optional language packs are free and can be downloaded from the Downloads Section.
Editions
MMI is available in a variety of editions making it easier for users to purchase the features they need and within their budget:
Free Edition
Basic Edition
Student Edition
Professional Edition
Professional Penta Edition
The comparison table below summarizes the differences between these editions.
Feature
Free
Basic
Student
Professional
Professional
Penta
Chart Creation
Creating Rave Charts
Creating Connection Charts
Creating Cycle Charts
Creating Transit Charts
Creating Transit Watch Chart sequences
Creating Family Penta Charts
Information Display
Sub Line Planetary Data
Rave I'Ching Support
Bodygraph highlight support
Chart Statistics
Printing & Imaging
Printing Charts
Exporting Chart Images
Chart Management
Importing Charts
Exporting Charts
Sending Charts by Email
Misc
Configurable User Preferences
Rave Time
Rave Ephemeris Browser
Price
Download
$64 | Buy
$200 | Buy
$450 | Buy
$550 | Buy
Price
Free
$64
$200
$450
$550
Download
Buy
Buy
Buy
Buy
Upgrade options
MMI license upgrades are available at the following prices:
Basic to Student : $150
Basic to Pro : $400
Basic to Penta : $500
Student to Pro: $275
Student to Penta: $385
Pro to Penta: $110
License upgrade can purchased in the Buy Now section.
Downloads
To Download the Free Edition of MMI, simply click the 'Download Free Edition Now' button below.
When installing the Free Edition of MMI for the first time, users are granted an evaluation license which will allow them to use and experience all of the features contained in the Professional Edition of MMI for seven days.
Once the evaluation period is over these features will be blocked and the application will only offer the core functionality associated with an unlicensed free edition.

Please note that MMI is only available for PC computers running Microsoft Windows.
Language packs
To install MMI Language Packs simply download the appropriate pack, unzip it and run the installer file found inside.
After installation, restart MMI and select the desired language from the Language menu (Under Tools in the main menu).
MMI Language Packs are currently available in the following languages:
The Famous Rave Collection
Celebrities are always of particular interest to the collective. There is a fascination with their lives, what they do, what they say, what they wear, what they eat, who they marry and divorce, how they behave in different circumstances, and so on. Seeing their Human design charts can be very revealing and students can learn a lot by studying the Rave charts of famous individuals.
We are happy to offer you this free download of 100 famous rave charts that can be easily imported into your MMI software. In this package is a wide selection of celebrities from Actors Johnny Depp, Brad Pitt and Angelina Jolie, to artists such as Bob Dylan and Amy Winehouse, to politicians and royalty including Barack Obama, Queen Elizabeth II and many more.
Download the collection
Import Instructions:
In MMI, under the File tab, click Import.
Choose the 1st Import option: Import charts from an MMI Document (*.MMI)
Select files and choose the downloaded .MMI file: The Famous Rave Collection
From your friends at Jovian Archive, we hope you enjoy!
Purchase
To Purchase MMI view the options below.
If you are unsure which edition is right for you please refer to the Editions section.

Please note that MMI is only available for PC computers running Microsoft Windows and that Jovian does not refund software once the purchase has been made.
| | | |
| --- | --- | --- |
| MMI - Basic Edition | $64 | |
| MMI - Student Edition | $200 | |
| MMI - Professional Edition | $450 | |
| MMI - Professional Penta Edition | $550 | |
MMI activation keys
After purchase you will be able to find download links to your software alongside the activation keys required in the Software section of the My Library page.
Upgrade options
License upgrades are available for existing customers that wish to upgrade their edition of MMI.
To find out which upgrade options are available to you please introduce your MMI Activation Key here below:
MMAI - Advanced Imaging extension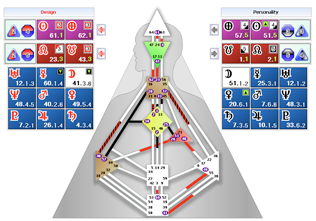 The Advanced Imaging module (AI) is an MMI extension module which allows you to see the advanced information available in a chart, some will recognize this is as the "Box" view.
With the AI module installed the software takes you into the substructure of a chart, providing advanced keynotes for PHS and Rave Psychology based on Colors and Tones. It also contains the "Magic Square" which is used in Holistic Analysis.
In addition, it displays the arrows which indicate the Variable of a chart.
This module is only available to customers who already own MMI Student edition or higher.
To find out module pricing please introduce your MMI Activation Key here below:
DreamRave extension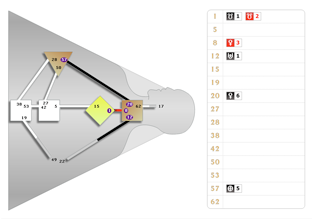 The DreamRave Module is an MMI extension module which allows you to see the information available in a DreamRave Chart.
With the DreamRave Module installed DreamRave Charts become interactive, providing a deep learning experience for students and professionals.
To find out module pricing please introduce your MMI Activation Key here below: